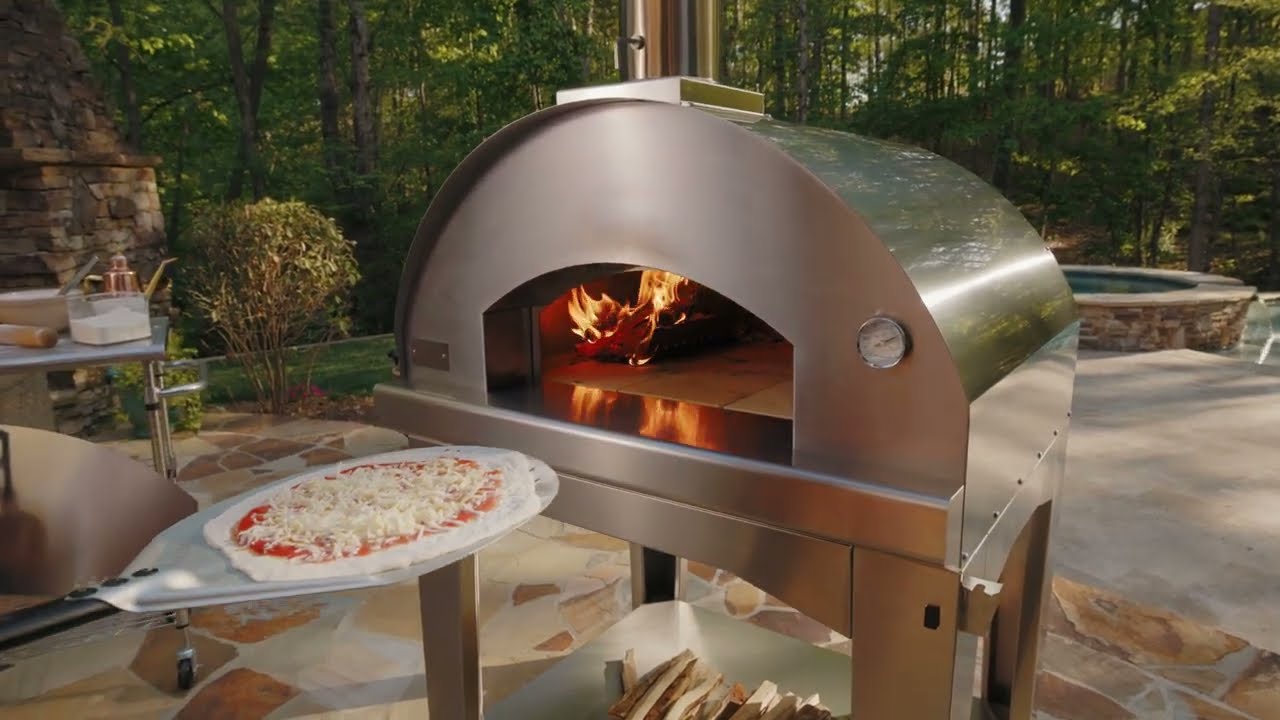 Nothing beats the enticing aroma of freshly baked pizza in the air on a sweltering summer night. If you enjoy pizza and prefer to host gatherings in your garden, an outdoor pizza oven is necessary. When it comes to outdoor pizza ovens – Fontana Forni is the brand that stands out. Founded in 1946, Fontana Forni is known for its high-quality Italian pizza ovens that are as stylish as they are functional. This article explores the world of Fontana Forni outdoor pizza ovens and provides a comprehensive guide to choosing the best oven for your garden.
What makes Fontana Forni's outdoor pizza oven the best?
Although many outdoor pizza ovens on the market share a similar exterior, not all are the same. All Fontana stoves include the characteristics of the highest caliber in the industry that Fontana Forni is known for.
Rapid heating
Fontana Forni stoves are designed to heat up efficiently and quickly. Equipped with innovative technologies such as the dual combustion system and advanced insulation, the oven can reach high temperatures quickly, typically within 15-30 minutes. This makes it ideal for quick and convenient cooking, especially when guests are invited.
User friendly
The Fontana Forni stove is easy to set up and use, with intuitive controls and features that make cooking a breeze. The oven comes with detailed instructions and a user guide, and Fontana Forni also has excellent customer service to help with any questions or concerns.
Authentic Italian Design:
Fontana Forni ovens are designed and manufactured in Italy, the birthplace of pizza.
Additional features include:
Its special galley is curved from front to back and from side to side to prevent hot spots and provide even heating.
Best on the market maximum temperature rating of 900°F/482.2°C.
For optimal warmth and accurate temperature control, use a stainless steel flap control.
Fontana Forni has been producing aluminum outdoor pizza ovens for 40 years, whereas other producers have only lately joined the bandwagon. No other pizza oven is said to be as strong and long-lasting as the Fontana Forni oven.
Types of outdoor pizza ovens from Fontana Forni
To accommodate various requirements and preferences, Fontana Forni provides a selection of outdoor pizza ovens. Here are a few of the most well-liked models of outdoor pizza ovens from Fontana Forni.
Pizza ovens that use wood as fuel are the pinnacle of genuine Italian cuisine and provide a wood-fired taste to food. To fit your outdoor area and cooking requirements, Fontana Forni provides wood-fired pizza ovens in a range of sizes and styles.
Pizza oven powered by gas: Fontana Forni also provides a gas pizza oven if you prefer the ease of gas.
Pizza ovens that may use wood, gas, or charcoal are also available from Fontana Forni. These stoves allow you to select your fuel type based on your preferences and availability, giving you adaptability and freedom.
Choosing the Right Fontana Forni Outdoor Pizza Oven
With several models to choose from, choosing the right Fontana Forni outdoor pizza oven can be overwhelming.
Size and Capacity:
Fontana Forni offers different oven sizes for different needs. Consider the space available in your garden and the number of guests you typically host. Small ovens such as the 'Gusto' and 'Margherita' are ideal for small gatherings, while larger models such as the 'Forno Toscano' and 'Vesuvio' are suitable for larger gatherings and events. Fuel type:
Fontana Forni offers pizza ovens that are wood-fired, gas-fired, or a combination of both. A wood-fired oven gives the pizza a traditional smoky flavor but requires more effort to maintain the fire and temperature.
Conclusion
For those who want to savor the true flavor of freshly cooked pizza in their own garden, Fontana Forni outdoor pizza ovens are a favorite pick. Fontana Forni ovens provide a fantastic outdoor cooking experience because of their quick heat-up time, robustness, adaptability, and beautiful appearance. Fontana Forni has a pizza oven for you whether you choose the classic wood-fired cooking method, the ease of gas-fired cooking, or the adaptability of dual-fuel alternatives. You'll be well on your way to selecting the ideal Fontana Forni outdoor pizza oven for your outdoor culinary activities if you take into account the elements outlined above.